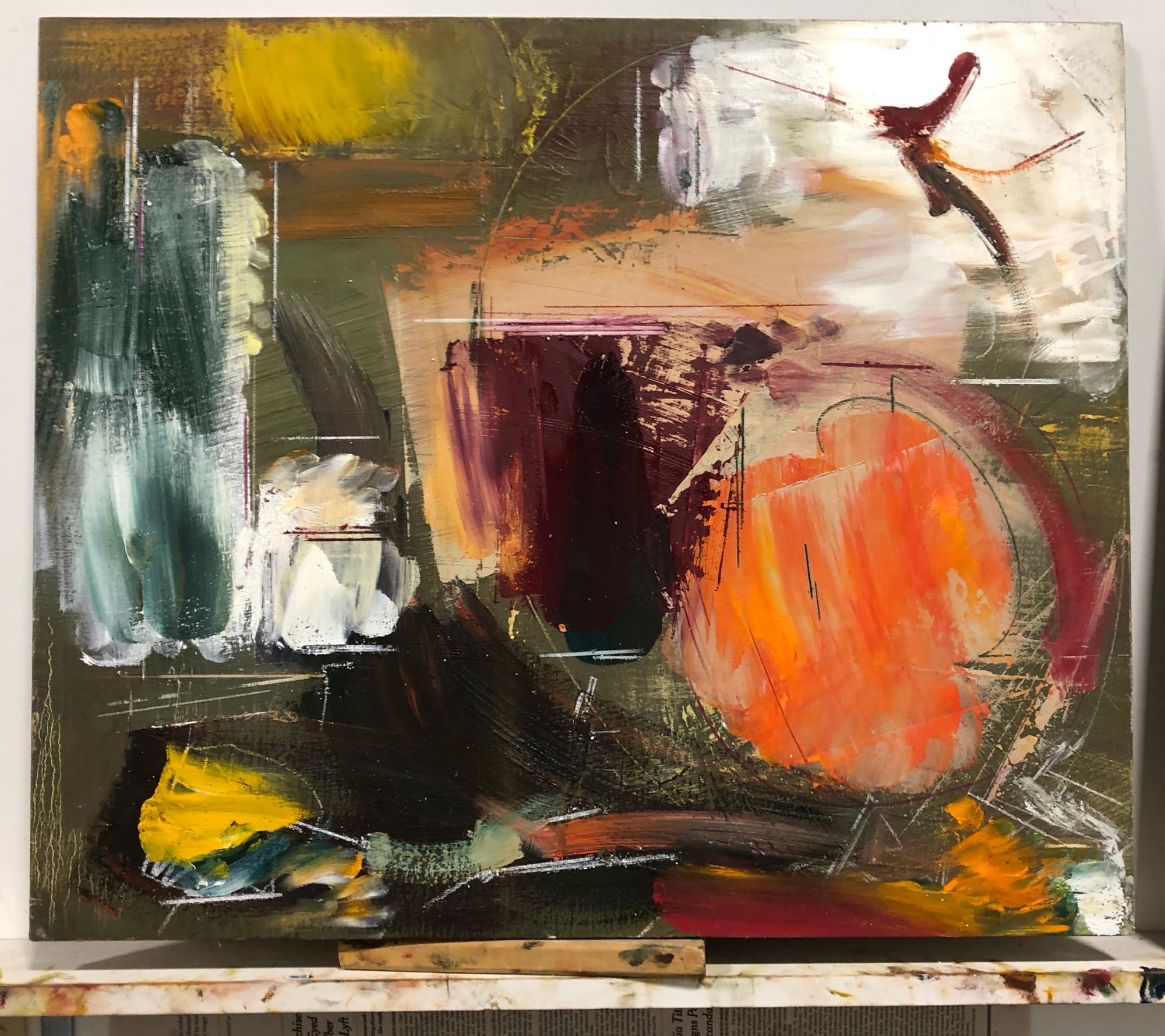 ABOUT GEORGE LLOYD
I am an American painter and draftsman who has been a working artist for more than five decades . I spent the initial and formative phase of my artistic career in the 70s and early 80s in the San Francisco Bay Area. Nearly four decades ago , I returned to my native New England and have remained here ever since.
My work is included in both private and public collections both here and abroad.
Do note that this site is a work in process .The various portfolios are designed as windows onto different aspects of what has been a multifaceted artistic endeavor .
Image on left is STILL LIFE w PERSIMMON 2020

24 x 20 ", oil on fabric affixed to plywd
Note : The BANGOR 1983 / PORTLAND 1985-6 SKETCHBOOK is collection of Joe and Ann Marie Malone Portland ME
LINKS:
www.georgelloydartist.com
RESUME / CV :
Education :
BFA Rhode Island School of Design, Providence 1967

MFA School of Art , Yale University , New Haven CT 1969
Awards :
1995 - Elizabeth Foundation Grant 

1994 and 2006 Pollock-Krasner Foundation Grant
2002 - Visiting Artist, American Academy in Rome
Collections :
• Achenbach Foundation, Legion of Honor , San Francisco, CA
• De Saisset Museum, University Santa Clara , S Clara CA
• Oakland Museum, Oakland CA
• Ogunquit Museum of American Art, Ogunquit ME
• Portland Museum of Art, Portland, ME
• University Art Museum, Santa Barbara CA
• University of Maine Museum of Art, Bangor ME
Selected Solo Exhibitions :
2020 Cove Street Arts , Portland ME --- GEORGE LLOYD / AMUSE BOUCHE
2017 Greenhut Galleries , Portland ME --- GEORGE LLOYD / 80s and 90s work
2015 Greenhut Galleries , Portland ME --- GEORGE LLOYD / Recent Paintings
2014 George Marshall Store Gallery , York ME --- GEORGE LLOYD / a survey
2012 Acme Fine Art , Boston MA ---GEORGE LLOYD / INSIDE OUTSIDE
2010 Acme Fine Art , Boston MA ---GEORGE LLOYD / Paintings and Drawings from the Figure Period
2007 Acme Fine Art , Boston MA--- GEORGE LLOYD / Paintings from th 70s and 80s

2006 Portland Museum of Art , Portland ME 
--- GEORGE LLOYD : Between Plan and Elevation , curated by Susan Danly
• 2003 University of Maine Museum of Art , Bangor ME ---
GEORGE LLOYD : The Transition Years , 1982-1984
• 2001 Ogunquit Museum of American Art , Ogunquit ME --- GEORGE LLOYD : The Maine Years , 1982-2000
• 2000 Hackett Freedman Gallery , San Francisco CA ---GEORGE LLOYD / Paintings
• 1996 Caldbeck Gallery , Rockland ME --- GEORGE LLOYD / Paintings
• 1994 Kennedy Gallery, Holy Names College , Oakland CA --- GEORGE LLOYD : The Bay Area Years , 1970 -1982
1983 Dana Reich Gallery , SanFrancisco --- GEORGE LLOYD / Paintings
1983 Davison Art Center , Wesleyan University , Middletown CT
1978 Lawson de Celle Gallery , San Francisco --- GEORGE LLOYD / Paintings
Selected Group Exhibitions :
2006 Acme Fine Art , Boston ---Geometry and Absstraction
1999 Wiegand Gallery , Notre Dame College , Belmont CA --- 'Drawing without Models' , works by Geo LLOYD , Joseph SLUSKY , Abigail SHAHN and Charles SULLIVAN
• 1998 Portland Museum of Art , Portland ME 
"Biennial"
• 1992 National Academy of Design , NYC 
"167th Annual Exhibition"
1978 Federal Hall National Memorial , New York NY ---Metaphor in Painting , curated by D Rosenthal
1978 Ohlone College , Fremont CA --- Five Berkeley Artists

1977 Oakland Museum , Oakland CA , SIX EAST BAY PAINTERS
1973 Charles Campbell Gallery , San Francisco CA and Crocker Art Museum , Sacramento CA : DRAWINGS by Joan BROWN , Elmer BISCHOFF , Gordon COOK , and George LLOYD
Teaching :
University of California , Berkeley
San Francisco Academy of Art
University of Oregon , Eugene
Wesleyan University
Cornell University , Ithaca NY
University of California , Santa Barbara
New York Studio School